What: online spiritual transformation course for your life and business
Founder: Gabby Bernstein
Costs: 1999 dollars
Duration: 8 modules (2 months)
Soul Sparkles: 5 out of 5
What is the Spirit Junkie Masterclass digital?
The website itself www.spiritjunkies.com says: Spirit Junkie Masterclass Digital is an online course that helps you gain the confidence and tools you need to live your highest purpose, make an impact and earn for your great work.
My explanation of what the Spirit Junkie masterclass digital is, is an online course that will help spiritual seekers, and entrepreneurs go to the next level, learn how to become more grounded and focused on their mission in life. And learn how to build a solid spiritual business, based on your personal strengths and your story. It will help you with storytelling, working through your fears and other blocks that prevent you from being successful, give you the tools to do marketing in a spiritual way and learn how to listen to your spiritual guidance more. It is a life changing e-course, that will help any spiritual entrepreneur to the next level, no matter where you start from.
For who is the Spirit Junkie Masterclass digital?
"The Spirit Junkie Masterclass digital is for Spiritual seekers, entrepreneurs, corporate miracle workers and people who are ready for more." www.spiritjunkies.com
This course is for you when
You feel ready to step into your Teacher and serve the world with your Purpose.
You want to take your spiritual practice to the next level and be guided by the Universe in your life and business.
You want to break free from your doubts and fears and are done playing it small.
You want to put the right energy in the right place so you can make an impact on the world. If that is from a business or the community that you live in. We all have a mission, big or small that can help change the world.
Who is Gabby Bernstein?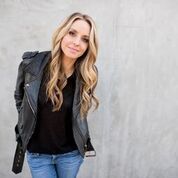 Wikipedia: "Gabrielle Bernstein is an American motivational speaker, life coach, and author. Bernstein teaches primarily from the text A Course In Miracles. She teaches a practical application of the Course's principles emphasizing self-love, forgiveness, and a holistic approach to spirituality. In 2009, Bernstein was featured in The New York Times as a "guru" for the next generation."
She is a self made spiritual guru and public speaker, who has changed over 1.000.000 lives by sharing her teachings and her story.
She is a New York Times best-selling author with her book 'The Universe has your Back' (2016) and 'May Cause Miracles' (2013).
She has been a successful spiritual entrepreneur for more than a decade.
My experience with the Spirit Junkie Masterclass
In 2017 I decided it was time to make a change in my life and get support in my corner in developing my spiritual business and owning my spiritual calling. I had been playing it small for 3 years, struggling as an entrepreneur because I wanted my spiritual growth to be leading in creating my business. There was one talk I will never forget, where Gabby told me: "You are a spiritual Teacher". That was when the seed was planted. And I followed her advice and walked the talk and then started her online version of the Spirit Junkie Masterclass.
I felt amazing watching the first video of her course. It was like I was right there with them in New York and she was talking to me personally. The course was very lively and interactive, even though it was online.
Her words touched me so deeply and her teaching stay with me all through my life. It has been a life changing experience for me.
The community was like a big secure bubble for me, where I could dry my wings and try to fly. And it was safe to start expressing my Truth in that community. Soon I got the confidence to come out with my message and serve in a bigger way.
It taught me so many spiritual tools and skills that I use in my daily life and that I can teach to others. The course teaches what you can teach, mixed with your own story and experiences.
After the course, in just 2 months' time, I had reached more clients than I had the whole year, I had a daily meditation class in a spiritual Hostel in Spain, where Spirit had guided me. It was a life-changing summer for me.

What to expect
When you enroll to the Spirit Junkie Masterclass you will be given
Live recordings of the Spirit Junkie Masterclass in New York (8 modules)
In-depth workbook and worksheets that will help you take the actions required
You will be a lifetime member of The Spirit Junkie community in a very active Facebook group
Besides Gabby Bernstein your teachers will be Rha Goddess, Jordon Back, Jay Shetty, Maryann Dimarco and many more, who are all experts in their field.
Bonus materials, like the training God is my Publicist and Spirit Junkie Business Basics.
Extra bonus: this year an opportunity to meet Gabby live in New York on August 10, in the Spirit Junkie Live event.
Every week there is a release of the next module, so you can follow the course as a group and use the Q&A in the community. In total there are 8 modules. The first module you will receive direct access to. The next modules will be from June 28 through August 9, 2019.
Conclusion
For an e-course, this Masterclass is very live. The recordings are high quality so they bring even the energy of the room to your computer screen. The teachers and the teachings are of high quality as well. They really know how to get you moving and inspired. The workbook is pretty in design as well as very functional. This will be your guide for years to come. You will have lifetime access to the training, which is updated every year. Also, the bonus material is most valuable while setting up your spiritual business.
A very big plus is the community that is attached to this course and you will feel instantly connected to all of these beautiful souls, sharing your big mission in changing the world.
As far the meditations and spiritual teachings are concerned, even though I was already an experienced spiritual practitioner it taught me very practical and also elevating new skills. It takes your spiritual practice to the next level so to speak, no matter what your starting point is.
The price is very reasonable (1999 dollars) for the quality and the results you will get with this course.
Besides, Gabby offers you the tools and the methods to build your spiritual business, so you can make a good ROI (return on investment) in the year that follows, doing what you love. She helps set you in the right energy to put everything she teaches into action – so that you will become the Teacher you were born to be.
Want to level up your life and business this Summer, this is it!
Ps. I am a proud affiliate for Gabby's Spirit Junkie Masterclass Digital course. I deeply believe in her training and that she can take you to the next level, as she did for me. When you decide to join her course I might receive a referral fee as part of our affiliate agreement. Make sure you use this link if you would like to sign up through my recommendation and let me know.